If there is something unpredictable, then it's indeed the life of Zoila Chavez. Zoila, who is the immigrant of Nicaragua, worked as a housekeeper and Director of In-House Operations in 1998 but it was the house of interior designer, Jeff Lewis which changed her life. She is now a reality star who featured from the 1st season to 10th season of Bravo TV's reality series "Flipping Out."
Career and Professional Life:
Zoila Chavez must have stars on her right side as she went from rag to riches. As a young girl, she dropped out of school leaving behind the dream to become a school teacher after his father was diagnosed with Parkinson. By the age of 10, she began working in a laundry and then to the shoe factory.
But when she realized that the income wasn't enough to support her daughter, she moved to the United States where she met interior design mogul, Jeff Lewis, and the rest is history. As a housekeeper, she appeared in Bravo TV's reality series called "Flipping Out" alongside her boss Jeff Lewis, his partner Gage Edward, Jenni Pulos and Megan Weaver.
After being a loyal employee to Jeff, she announced her retirement after nursing the daughter of Jeff and Gage for about nine months. She retired in August of 2017 bringing an end to 18 years of service filled with ups and downs.
How Much is Zoila Chavez's Net Worth?
For a woman who couldn't afford the shoes of her daughter to become a reality star and housekeeper of Jeff, is indeed a meteoric ride. After 18 years of service at Jeff, she earned fame and fortunes. Looking back at where she started at Nicaragua, her net worth of $500,000 shines as a profound figure.
Divorce with Husband and Raising Daughter!
She married her husband when she was just aged 18 and struggled to feed herself and family at the time of survival in Nicaragua. With her husband, she gave birth to three daughters, Elizabeth, 47, Johana, 45 and Carolina, 40.
In 1979, war broke out in Nicaragua, and her husband fled to the United States with another woman. After the betrayal, she stayed behind and divorced her husband.
But she couldn't afford better education for her children that she dreamt of and thus, she relocated to the United States leaving her daughters at the hands of the grandmother.
Now, her daughters are accomplished working women where two of them are accountants and one work to manage a convalescent hospital in Los Angeles.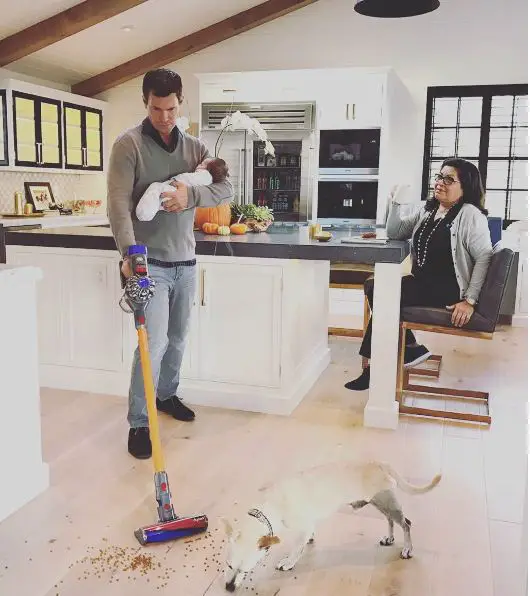 Caption: Jeff and Zoila having a time in their house on 23rd November 2016
Source: Instagram
She surely has accomplished a lot in her life, and it wouldn't have been possible if there wasn't a guy named Jeff. During her 18 years long stay at Jeff, she battled the short-tempered nature of Jeff because she knew there was a loving guy behind him.
Her relationship with Jeff has been nothing sort of the example of a relationship that should be between the employer and employee. Jeff, who paid for her plastic surgery, did everything he could to stop Zoila for retiring. She did prolong her stay for three months to take care of Jeff's newly born daughter Monroe.
Zoila's Short Bio:
As per wiki sources, Zoila Chavez was born in 1950 in Managua, Nicaragua and celebrates her birthday on 25th August which makes her age 67. She is a Nicaraguan citizen and belongs to Latin American ethnicity. Born in a big family with numerous siblings, she takes inspiration from her mother who worked even she was 80 years old. Zoila possesses a short-ish height and has a buffed up physique.