Sometimes it takes time dealing with a disability - the trauma, the relearning, several months of rehabilitation therapy - to unscrew owns true abilities. Nik Keswani, known to the world as BigNik, is one of an idle to the saying, who came forward with his creative ability to entertain people in a way we normal people would have never imagined for. Despite the physical disabilities, he is shining on the internet as a social media star.
Big Nik is a YouTuber who has strengthened his ability and created a separate fan base on social media—has a million subscribers and followers on his YouTube channel and Instagram. Rose to the fame as a Viner, he gradually earned notoriety through his vines and comedy videos.
The social media sensation is also a rapper and has released his tracks titled "No Cap" and "I Don't Wanna Live." 
Bio- Who Is BigNik?
BigNik, whose real name is Nik Keswani was born on 11 September 1998 in Boca Raton, FL. and was raised in Naperville, Illinois. Growing up, he attended Laurel Springs Academy as his junior year and then enrolled at Torrey Pines High School in San Diego, California.
More About YouTuber: Tom Cassell Wiki: Married, Dating, Girlfriend, Gay, Net Worth
BigNik was born with a certain dwarfism syndrome because of which he had to undergo several surgeries on his legs, hip, and ankles. It was his leg surgery that led him to stick in a wheelchair for six months, and the outcome was amazing. In between those six months, out of boredom, he started recording vines and making youtube videos that unexpectedly became the turning point in his life.
Dating Girlfriend?
BigNik is now 21 years old, mature enough to have a girlfriend. However, it doesn't look like he is officially dating anyone. His dating life is obscure at the moment. 
Taking a quick look into his social media post, he was single until 2016 as his few tweets resembled his singlehood. However, on one of his YouTube video on May 2, 2018, he introduced a dwarf lady as his girlfriend. But, later he disclosed it was just a prank.
Fast-forward to 2019, Is he dating anyone? Probably, not yet! Still, he tries to fool people with his pranks showcasing his self-claimed girlfriend. On his recent YouTube videos, he gave the glimpse of his date with a dwarf girl who is shorter than his height of 3'11". Disregarding the video, to public knowledge, people think it as a pre-planned for the video and is not official.
Star With Dwarfism: Elena Gant Wiki, Age, Husband, Twins, Babies, Parents, Net Worth
Parents
Today Nik is so popular and confident because of the immense support of his fans. But most prominently, all the credit goes to his family. Nik's parents are an inheritance of Indians who immigrated to the US years ago. His father and mother are involved in medical line—his mom Vaishali holds a medical degree and is pursuing an optometrist while his father Anil N Keshwani is a medical professor.
Being well-educated and holding reputed professions, his parents are modern and supportive. Initially, his dad, Anil, felt helpless despite being involved in the  Context medical field.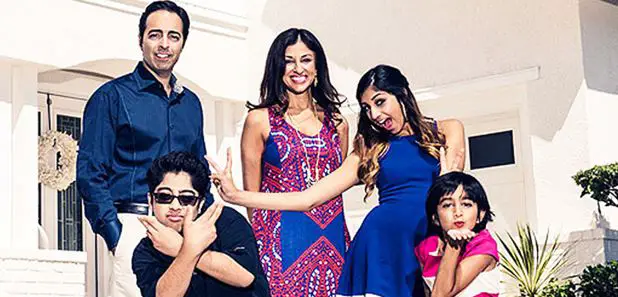 Family: BigNik with his parents and sisters. (source: people.com)
In his family, Nik has two more sisters Sarina and Devina among which his youngest sister Devina is transgender.
Net Worth
BigNik has made his own identity with his entertaining vines and vlogs. He has collaborated with some renowned stars including Jake Paul (Tana Mongeau's husband), Gabs Erwin, Elizabeth, and Brent Rivera. Moreover, YouTuber David Dobrik is his best mate. Along with his rising success, more doors are open to him. Nik was featured in the LA Times, Vogue and People Magazine in 2017. 
Besides, his family was also featured in their series The Keswanis: A Most Modern Family in 2015.
Discover: Michael Mealor Wife, Partner, Height
Although his syndrome led him blind in one eye, his vision for his career is clear. Nik is motivated and encouraged to make more video on YouTube and gain both name and fame. When it comes to his fame, he is already popular, but what about his prosperity? Well, a source estimated his net worth in 2018 to be around $300,000 which he earned from YouTube and sponsors. From is YouTube account that has over a million subscribers, he accumulates the annual salary of about $1.3K - $20.9K.